Agromek Stars 2021 'Special Edition'
The previous year has been has been a different year for us all. The Agromek exhibition has been cancelled, but Agromek Stars was carried out, and were proud to annouce that our Funki MultiStraw got the acknowledge it deserves from Agromek Stars.
Funki MultiStraw transports cut straw by means of the special transport system, controlled by Funki MultiController. Along with the straw dosing units, this provides a system that can distribute straw at the desired times and amounts during the day.
You are able to read much more about the product here: Funki MultiStraw.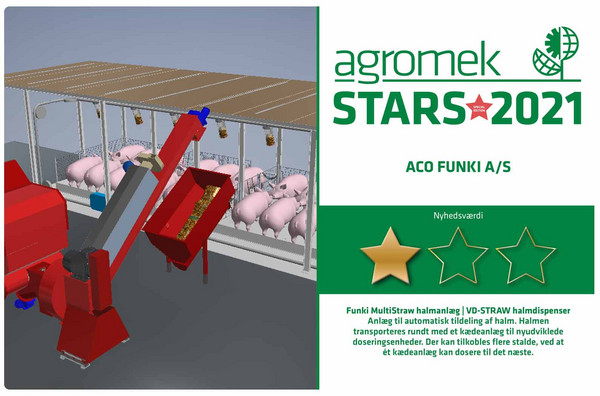 ---
What is Agromek stars?
Agromek Stars is an award system focusing attention on the exhibitors' product news. A panel of judges and experts assess the exhibitors' news and grant them 1, 2 or 3 stars.
One star
One star means that the product have a considerable news value in comparison to earlier products on the market.

Two stars
Two stars mean that the product contains:
a significant capacity increase, which also contains significant changes
or a significantly new construction or composition in comparison to earlier products on the market
Three stars
Three stars mean that the product or parts of the product contains:
a new cooperation or construction principle
Or an entirely new composition or effect to improve performance/ergonomics/comfort/environment/economy in a notable way