PROCLEANER X100
Powerful, flexible and reliable wash robot
We do not hestitate to call ProCleaner X100 the ultimate wash robot. ProCleaner X100 was developed and tested over a period of 5 years and is described by our customers as "...an efficient and reliable help in our day-to-day work". ProCleaner X100 is a powerful, flexible and reliable wash robot for cleaning the vast majority of types of pig house.

The machine is simple in its construction but houses an effective, high-tech wash robot that is able to cope with even the biggest jobs. The wash robot is built on 4 wheels and is 69 cm wide and 115 cm in length. X100 can be moved sideways by an adjustable side wheel that runs up the side of the fixtures and makes sure it keeps going in the right direction. The machine has an ultrasound sensor which ensures that the machine stops when it reaches a wall.

ProCleaner X100 can be programmed to run both a soaking programme and several different types of wash. The machine is connected via the existing high-pressure system by means of standard high-pressure hoses and requires a water volume of a minimum of 25 litres per minute.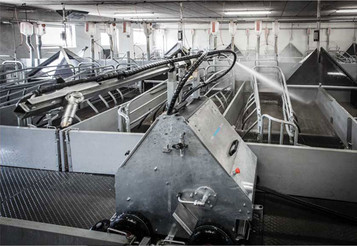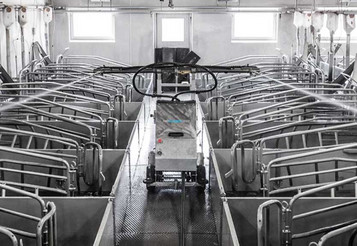 Takes approx. 80% of the wash time
95 % of the really unhealthy work
Better Working environment
Attract or keep the best employees
Fewer empty barn days or more drying time
Can operate 24 hours a day – washing during the night
Easier to keep Higher cleaning standard
Improve Bio Security & Health in Herd
| | |
| --- | --- |
| Productname | Procleaner X100 |
| Dimensions (LxWxH) cm | 110 × 69* x 145 |
| Weight | 285 kg |
| Power supply | 230 V |
| Required amperage | 6 amp. |
| Water consumption | 20 / 40 ltr. per minute |
| Max. water pressure | 200 bar |
| Operation pressure | 140 bar (40 l. water/minute) |
| Compressor | External |
Wash time for 30 metres of pig house, 5 mtr. sty depth on both sides = 3-4 hours
---